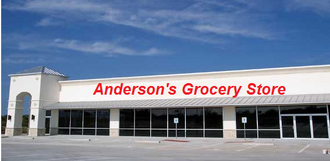 "The broccoli always looked that color here, as if it were spray painted or made of plastic."
—
Anderson's Grocery Store was the place on Earth where Jason went after playing baseball with Matt and Tim. There were two places to eat in the store: the deli and the Chinese counter.
At the Chinese food counter, Jason ordered the lunch special, which consisted of orange chicken, chow mein, and beef and broccoli on a compartmentalized Styrofoam plate. He also got a fortune cookie.
Ad blocker interference detected!
Wikia is a free-to-use site that makes money from advertising. We have a modified experience for viewers using ad blockers

Wikia is not accessible if you've made further modifications. Remove the custom ad blocker rule(s) and the page will load as expected.